January 01, 2010

|

Our Member's Stories

by

James Barnes

by

Craig Stock

by

David Prescott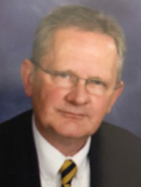 One Saturday in 2010, David and Barbara Prescott took their three grandsons to Wayne Presbyterian Church to show them where the boys' mother, Leslie, was married to Matt Healey of Needham, Mass. When they entered the sanctuary they were pleasantly surprised to hear organ music. Jeff Fowler, Wayne's music Director at the time, was playing the organ and invited the boys up to see the organ. At grandfather David's request, Jeff agreed to play the "trumpet voluntary" he had played for their mother's wedding several years before. The music was loud for the two older boys--Kieran, then eight years old, and Connor, nine, ran 'off stage' down to the chancel to escape the din. The youngest, six-year-old Ryan, stayed at the organ through the whole piece and to his grandfather's delight was encouraged by Jeff Fowler to play his recent piano recital on the organ!
The mother of these three boys, Leslie, comes from a musical family and was a harpist as a student at Duke University. Her sister, Page, was a harpist as a student at Bowdoin and now lives in Santa Fe, and her sister, Holly, was a harpist as a student at Penn and now lives in Philadelphia. All three sisters were taught the harp by the Curtis Institute harpist, Ann Sullivan, who won the Israeli Harp prize. David grew up Presbyterian and played the alto saxophone. Barbara was reared as a Baptist and was a pianist. They met at 'Interboro High School in Prospect Park. They always enjoyed the music at Wayne and particularly the Toccata by Widor which Jeff Fowler would regularly play at Easter services.
By David Prescott
June 2020