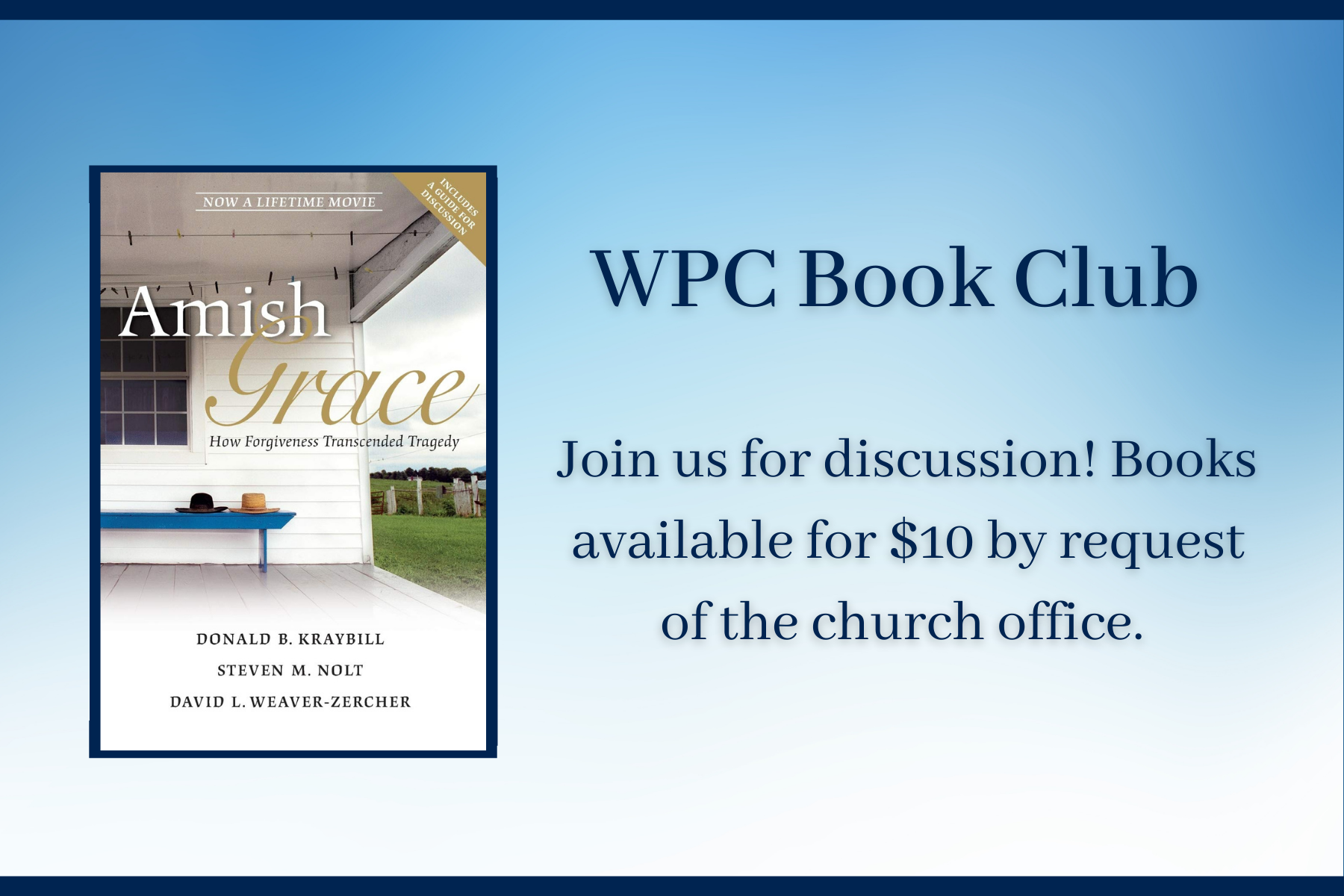 WPC Book Club- postponed to January 30th and 31st

Amish Grace explores the complexity of forgiveness and restoration through the lens of this Amish community moving through their grief.​ Join us while we learn from our friends in the Amish faith tradition. ​
There are three opportunities to join in a book discussion group! January 30th at 9:00am or 10:30am, or January 31st at 7:00pm on Zoom.
Register for a discussion of your choice here.
Email Janice Mack at with any questions. A message from Janice below:
Friends,
While this may feel like Groundhog Day, with the surge of a new Covid variant and the church going to online services for a few weeks, it is not! 2021 brought us back to in-person worship, education, and fellowship with the help of vaccines and common-sense mask wearing and spacing. Taking a brief pause from in-person church activities will help us ride out this latest wave of cases, as well as lessen the stress on our health systems---not to mention, give us a chance to put the Christmas decorations away!
WPC Book Club's latest selection Amish Grace: How Forgiveness Transcended Tragedy is a thought-provoking book that we can't wait to discuss with you! However, after careful consideration, we have decided to push the date of the discussion to January 30th, 9:00am and 10:30am for in-person (God willing) and February 1, 7:00pm for a Zoom option. We are hoping that the extra time will give some new folks a chance to read and join us for an in-person conversation!
So in the mean time…
We have many books available for purchase at $10. You can stop by the church office during the week between 8:30 - 4:30. You will need to ring the doorbell and someone will help you.
Try putting some forgiveness into practice over the next few weeks. We often feel pressured when we undergo conflict to simply "move on" or "just get over it." It can be very healing for all when you actually say the words, "I forgive you," to someone.
Isn't it funny how when you are paying attention to something, you notice it everywhere? I previously shared an article by Radnor-raised author Kelly Corrigan on forgiveness and family gatherings. You can read it here.
One of the most moving interviews I have heard this year was also by Kelly Corrigan. She interviews Anthony Ray Hinton, an exonerated death row inmate, about his time on death row, experience being freed by attorney Bryan Stevenson, and his deep faith on her podcast Tell Me More. You will be moved, maybe to tears, as you listen to Anthony Ray's story here.
As always, if you have any questions, please email me at .
Peace and health in this New Year,
Janice Mack
One Book, One Church and WPC Book Club committee
---
More from Book Club