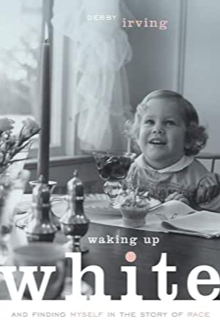 I would like to announce our Fall 2020 new read for WPC Book Club!
Waking up White , by Debby Irving
"Do the best you can until you know better. Then when you know better, do better." Maya Angelou
This quote from Maya Angelou has given me courage to dig into something that makes me uncomfortable, challenges the way I view the world, and to accept that I am not yet the "good' person I am trying to be. The murder of George Floyd on May 25, sent shock waves through the community, from Center City all way to our end of the Main Line, and around the country. How can things still be this bad, this unjust, this unsafe? Why is talking about race and racism so very hard? How are we to respond to this deep rooted sin as a community of faith?
Now, it is our turn for some reading, discussion and self reflection on "knowing better, so we can do better." Waking Up White, by Debby Irving was selected as Philadelphia Presbytery read in 2016. It has been used for All Church reads through out our area and I am excited to share this book with the whole church at Wayne Presbyterian! Debby Irving provides many personal stories that easily could have placed her in Wayne instead of Cambridge. Her stories could be any of ours. This book is more than a memoir of one white lady's insight in her own views on race. Irving has done her homework and the book is full of historical perspectives, research and other's views as well.
In the age of Covid-19, we will be meeting on line for large discussions and then breaking into smaller groups for discussion as well, the wonders of Zoom!
1. Get a copy of the book. Because of demand, the book may be hard to get at the library. Mine is so marked up and full of notes, if possible, I do recommend just purchasing it.
2. I think our discussions might benefit from people having read the book in its entirety before class starts. It isn't too long and really moves along at a good pace.
3. We will be 2 class options,
Option A, October 8 and 15 at 10:00am
or
Option. B, October 8 and 15 at 7:30pm
4. Email Monique at to let her know that you are participating and which time period you prefer.
Gratefully,
Janice Mack
Questions? Please email Janice Mack
---
More from Book Club