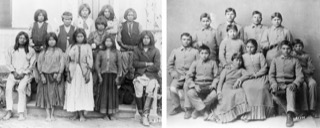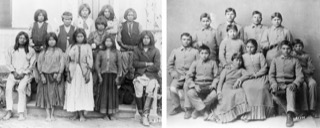 Friends,
I hope that you have had a chance to begin This Tender Land, by Kent Krueger. If so, I am sure your interest - as mine - has been piqued concerning the Native American boarding schools in our nation's history. I am embarrassed to admit that I knew very little about these schools and their purpose of "breaking the Indians," i.e., eliminating their culture by requiring their children to conform to the lifestyle and values of the white immigrants.
The first US Native American boarding school was established in Carlisle, PA, and operated from 1877-1910. Children were sent to Carlisle, often despite the protests of their families, from tribes all over the country to learn white American culture, including clothing, language, customs, skills, and education.
On September 19 we will have a Zoom discussion with Jim Gerencser, College Archivist and Co-Director of the Carlisle Indian School Digital Resource Center at Dickinson College in Carlisle, PA. He will share information from the college's collections and lead a question-and-answer session. His wife, Kate Theimer, will join us to share her research on the photographs that she curates for the Center archives. Click here for link.
Please see the following resources if you are interested in learning more about the schools:
Kaitlin Curtis, a Native American author/journalist, whom I follow recommends this Wikipedia page as a good introduction. Click here for link.
You may have seen news reports of the recent discovery of hundreds of mass graves of Native American children who lived in boarding schools in Canada. To draw these heartbreaking stories of lament and despair closer to home, the Philadelphia Inquirer recently ran a story about the remains of children from the Carlisle school being returned to their tribes for burial. Click here for link.
This is another article on the same topic, written by a Native American. Click here for link.
These are complex histories to understand – but understand them we must if we are to learn from them. As Christians, we also should confront the role that churches played in these boarding schools.
As Maya Angelou says, "Do the best you can. Once you know better, do better."
With gratitude,
Janice Mack
---
More from One Book One Church