January 01, 1994

|

Our Member's Stories

by

George Aman

CityLights Network - The Early Years
25 years of caring ministry in Philly
By George Aman with Carey Davis and Ted Behr
Dr. Hestenes quoted Jesus' defining measure of love, "If you have done it for the least of these my brothers and sisters, you have done it for me" (Matthew 28:40). "And where," she asked us, "does our congregation feel uniquely gifted to serve in the world?"
One response was "Southwest Philadelphia" offered by Carey Davis, wife of Rev. Gerry Davis who we had called as our Pastor for Youth.
---
You've walked by the "CityLights" table in the Connector for years. You're attracted by the striking array of photos of Wayne Presbyterian members and friends deeply engaged in with our faith partners in Southwest Philadelphia. Or perhaps you've picked up a pie tin to bake a cake for the Sherwood Church soup kitchen. Or, dropped off several pairs of socks or a toiletries kit for the Outley House men's homeless shelter.
Over the last 25 years, dozens of Wayne members have signed up for a CityLights Saturday of Service project or traveled down to Mitchell Elementary or Cornerstone Christian Academy to read to school children. On the first Saturday of December, some of you drive down the Philly to participate in CityLights' unique annual Vigil for Victims of Gun Violence. On Thanksgiving morning, two or three WPC families always help distribute hot turkey dinners to the residents of the Presbyterian Apartments for the elderly at 58th Street and Greenway.
Where did it all start?
The first seeds were sown during a 1995 Sunday morning adult education series on the stark inequality in educational opportunity between our suburban public schools and those in urban Philadelphia. The seeds sprouted shortly thereafter at a church-wide mission retreat led by our then Pastoral Associate, Dr. Roberta Hestenes, President of Eastern University. Dr. Hestenes quoted Jesus' defining measure of love, "If you have done it for the least of these my brothers and sisters, you have done it for me" (Matthew 28:40). "And where," she asked us, "does our congregation feel uniquely gifted to serve in the world?"
One response was "Southwest Philadelphia" offered by Carey Davis, wife of Rev. Gerry Davis who we had called as our Pastor for Youth. Carey's suggestion had the benefit of her experience working for Rev. Dr. Tony Campolo, Professor of Sociology at Eastern and the founder of Christian Cornerstone Academy – in Southwest. Following a prolonged teachers' strike, Carey had lived in Southwest, mentoring children in after school programs and a summer camp at Bartram Village, a large public housing community.
In the ensuing discussion it was noted that several Presbyterian-related institutions were located in SW and would welcome outside support: the Presbyterian Home at 58th Street (formerly the Home for Widows and Single Women), Presbyterian Children's Village, and the Westminster, Sherwood, and 9th Presbyterian Churches, then considering a merger. A fourth Presbyterian Church, Woodland Avenue, had been pastored decades earlier by the grandfather of WPC's current Senior Pastor, Dr. John T. Galloway, Jr.
The needs of the SW community were reinforced by Census data showing that one in four residents there lived below the Federal poverty level.
In proper Presbyterian fashion, a committee was formed and produced a Mission project proposal. With the guidance of the Holy Spirit and strong backing of Dr. Galloway, the WPC Session designated this urban outreach as its primary Mission cause for an initial 3-year period.
In due course, a dozen or so local organizations were invited to join monthly meetings at which they could share their needs, resources, and activities. These gatherings were held on the premises of the various local groups so that members could better appreciate the work they were doing in the community.
At an early meeting in the Sherwood gym, the group discussed what they should call themselves. Again, the Holy Spirit directed us to Jesus' teachings in Matthew 5:16: "Let your light shine before others, that they may see your good deeds and glorify your Father in heaven," and CityLights burst into flower! (The name "Citylights" was actually coined by Mission member Sally Hudson while sitting near the kiddie pool at Martin's Dam!)
A critical early step was taken on the advice of Rev. Bill Yeats, pastor of Woodland Avenue Presbyterian Church. Rev. Yeats had been a key figure in reconciling racial conflict in the Southwest community – often violent – as its industrial base disappeared during the turbulent 1960s. If CityLights is going thrive, Rev. Yeats stressed, we have to deal openly with the inner feelings of racism – on everyone's part! Under the astute guidance of an outside counselor, the warm, caring relationships developed in those frank meetings have continued to bless CityLights and the community at large to this day.
Of even greater importance to the success of CityLights was the decision of Carey and Gerry to buy a home and raise their young sons Graham and Carter on the edge of the SW community. That move embodied Wayne's presence there and authenticated our outreach efforts. Carey had quickly emerged as the spark that lit CityLights, both in the beginning years as a ministry of Wayne Presbyterian and then for a time as a stand-alone non-profit corporation.
Carey's deeply caring Christian faith, commitment to community building, significant organization skills, and infectious laugh allowed CityLights to grow during her twenty-year leadership into a unique 60-plus member urban-suburban faith-based partnership.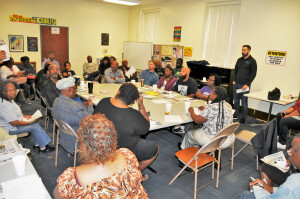 Monthly CityLights Meetings from the outset have provided a forum for sharing needs, resources and activities of organizations and individuals who are working to improve the quality of life in Southwest Philadelphia. Here, at a meeting at The Common Place, chaired by current CityLights Direct Rev. Cean James, a speaker from the Mayor's Commission on Aging outlines current city-wide elder care options.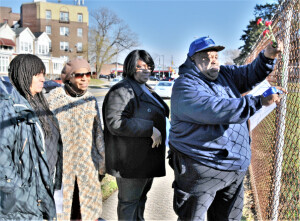 CityLights' urban and Wayne members gather each year to pray at the Vigil for Victims of Violence. Here, a flower is left at the actual site of a murder. A prayer litany, spoken for victims, their families, first responders, the perpetrators, and the community will follow. This year's Vigil will be held at The Common Place on Saturday, December 5th.