A small tree with tiny purple-pink flowers and heart-shaped leaves now stands in the "front yard" of our church not far from the west sanctuary door. It was planted last fall in memory of Robert (Bob) Forster, a member of our church for over 50 years, active as a deacon, a trustee, and long-time member of the administration and property committees. Bob passed away in the spring of 2019, and his ashes are now interred in our church Memorial Garden. The Forster family fondly remembers sitting in front of our church building in the shade of a large old tree to watch many Memorial Day parades on Lancaster Avenue. The shade was lost when that old tree had to be removed, but in the years to come, as the new tree grows, our church grounds will once again provide a welcome shelter for Memorial Day celebrants.
As relayed by his wife Bebe, Bob loved trees and forests, and "he was happiest" in the woods. Thus, planting a tree was an obvious way for his family to celebrate Bob's life. The family chose a native Eastern Redbud, whose colorful, pea-like flowers line the branches in early spring before the foliage emerges. This tree is adaptable to sun or shade, and at maturity its graceful crown should reach approximately 25-feet. Its flowers provide nectar for early insects, including some early-season butterflies. Seedpods that appear late in summer provide seeds for a few songbirds, including chickadees. A big thank you goes out to the Forster family and to John B. Ward & Co. Arborists for this welcome and beautiful addition to our church grounds.
---
Garden gallery
April 21 2020 update
Although our sanctuary doors have been closed throughout the spring, creation continues to awaken just outside our doors, beckoning us with beauty and hope. Our pollinator garden, planted last spring on the east side of the Chapel, and two small trees, planted in the fall in the front of the church, made it through the dormant period of winter and are starting to flower and leaf out.
Watch this space for photos of the colorful progression of blooms. Our aim is to add photos weekly as the season unfolds.
Open gallery below.
Our Pollinator Garden
Interesting reading - Presbyterian Mission Agency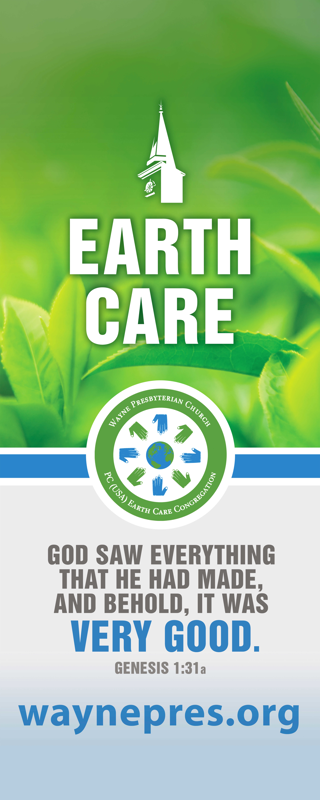 Wayne Presbyterian Church is an Earth Care Congregation
In February 2019, the Presbyterian Hunger Program of PC-USA certified Wayne Presbyterian Church (WPC) as an Earth Care Congregation. This certification was the result of a nearly year-long effort by numerous committees and individuals to integrate awareness of and attention toward earth care ministry into all aspects of church life, including worship, education, facilities, and outreach. While first-year certification is an honor, it is also only the beginning of a commitment to humble and careful stewardship of God's earth. Certification must be renewed annually by documenting continued efforts to care for Creation in a holistic way, including via the institution of ever-more environmentally sustainable practices throughout the church.
To support our application to become an Earth Care Congregation in 2018, we accomplished the following: (1) obtained a professional assessment of our church's energy use; (2) ensured that at least a portion of the electricity consumed by the church had been generated via wind power; (3) converted church lighting to efficient LED bulbs; (4) organized an adult education class, "Our Call to Care for Creation," on three Sundays in October; (5) organized an artistic wall exhibit and a flower table to emphasize both the spiritual and practical aspects of caring for God's beautiful and magnificent Creation.
In 2019, we have been working on a number of new projects: (1) planting a pollinator garden of native plants on church grounds; (2) joining other local houses of worship in a collaborative venture to encourage earth care; (3) hosting a showing of The Burden, a documentary addressing the effects of climate change on national security, which was followed by a panel discussion; (4) working with one of the youth of our church to give a Minute-for-Mission on Youth Sunday about our congregation's commitment to earth care; (5) purchasing fair trade, shade-grown coffee for church events, including each Sunday's fellowship hour; (6) re-instituting, after many years, the use of glass cups and plates, thereby decreasing our consumption of single-use paper items; (7) adding books to the church library on climate change and other environmental issues; (8) organizing an artistic and informational wall display on earth care.
For more information about WPC's earth care program, contact Rutger Boerema at or Pamela Jensen at . For more information on the PC(USA)'s Earth Care Congregations program, visit www.pcusa.org/earthcarecongregations.
Please join us as we seek to strengthen WPC's commitment to sustainable practices and care for all of God's Creation.
---
Recent Blog posts
Upcoming Earth Care related events