January 01, 2008

|

Our Member's Stories

by

Ted Behr

by

James Rush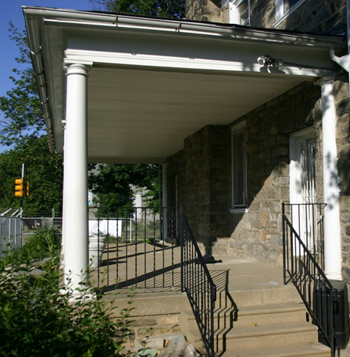 "I was born in the summer of 1877 and grew up at the corner of Kingsessing Avenue and 58th Street in Southwest Philly. Up to now, I haven't told my story. That's probably because I am a porch."
---
"My youth was happy, attached as I was to the south side of the Presbyterian Orphanage dormitory. Eventually, the Orphanage became Presbyterian Children's Village and moved to Rosemont, and the City took over my sister building across 58th Street for the Myers Recreation Center. So, there I sat, lonely and open to the elements, cared for by my neighbor, New Spirit Presbyterian Church. It was sad to watch happy kids skipping along Kingsessing sidewalks to and from Mitchell Elementary or playing basketball at Myers.
"I began to dream of a better fate when Dr. Tony Campolo bought my building for Cornerstone Christian Academy around 1989. But, the only real notice I got was a decade or so later when a UPS truck jumped the curb and knocked down one of my pillars.
"Then, along came Jim Rush and the Wayne Presbyterian Construction Serving Team (now 'Hammers with Hearts'). They had been deeply invested in the total reconstruction of the cellar and making the "big room" on the first floor next to me into a library. So, Jim, since they've sort of named the library after you, how about you taking the story over from here?"
School officials did decide to enclose the porch to provide additional library space to be called a "Learning Commons." For the design work, we turned to Mary Holland of CICADA down on Locust Street. But with God's motivation, we decided to undertake the construction ourselves.
The engineering drawings crafted by Mary and me were approved by CCA, and our team set about raising funds at church. A Wayne Presbyterian Sunday bulletin insert listed all the materials we would need and invited the congregation to "purchase" one or more items. With the urging of God's Spirit, by the end of April, over $34,000 had been donated, and we gratefully received a further anonymous match of $30,000! And work began.
Thanks to Tom Coleman of Lumbermen Associates in Bristol, PA, the framing lumber was supplied at cost. Tom's next-door neighbor, Bill Eisler, Jr. of Lumber Products Co. delivered the wood to CCA at no charge. God finds help in unexpected places.
Beginning June 14 construction became an everyday affair. We got a big boost when a group from the Mennonite Church in Harrisonburg VA arrived for its annual week at Cornerstone. They had been making these visits for 19 years. God sure loves a steadfast and willing worker.
By July 2, we began the exterior siding and trim and insulation and we were soon installing ceiling joists, electrical connections and plumbing. How fortunate that God's son was a carpenter!
Early August saw the addition of special touches like Warmboard® radiant heating for the floor and a handsome drop ceiling. We also completed an emergency exit to the parking lot, ceiling and emergency lights, and smoke detectors. God approves when the faithful are prudent.
By the end of the month, shelving was installed, and painting inside and outside was done. The library addition was ready for carpet (the only outside professional work) and then occupancy. Praise the Lord.
All told, 35 Wayne members and friends* put in long hours on the project, with many in the crew investing over 80 hours. Faith and good works came together for a wonderful cause.
Rev. Steven and Denise Harberts hosted a delightful wind-up party where we offered a prayer of thanks to God for His guidance and support. We prayed as well with joy and wonder at God's plan for education and enjoyment of the children who will use the library in the years ahead. Amen. (The porch recounted its recollections to Ted Behr)
*Lyn Atkinson, Jerry McVeigh, Bob Bechtold, Eric Meneely, Kevin Blackney, Bill Montgomery, Joe Cheslock, Mike Newsom, Mary Clampet, Dick Ollinger and family, Don Dahm, Chris Petersen, Cary Davis, Ron Ridgway, Clyde Diehl, Rod Robert, Sergei Drumm, Frank Rottier, Bob Edgar, Jim Rush and family, Ron Fritts, Corey Suter, Chris Gingras, Carolyn Wallis, Peter Grim, Phil Wallis, Farokh Kheradi, Spoken Wright, Ted Laws, Phil Zebley, Dave Leidy, Dave Little, Doug McBrearty, and members of Harrisonburg, VA Mennonite Church.