In 1963, the church undertook a campaign chaired by John Davidson, Sr. to install a 63 rank (3979 pipes), four manual Austin Pipe Organ. The vision of the organ committee empowered the congregation's worship in a manner which helped see the church through changing years. Their decision was far less concerned with the incursion of a large capital expense than it was with the worship and ministry they hoped to enable and perpetuate. They believed that the organ could be one of the more dynamic pillars in the house of faith they sought to grow.
The organ was designed by then organist Ken Simmons (organist at WPC 1953-67) along with Brant Duddy. It was dedicated in two concerts by Robert Baker and Robert Elmore. An antiphonal organ under expression of 24 ranks was added in 1985 in the second floor of the church tower. David Spicer (organist at WPC 1967-82) negotiated this addition. The antiphonal stops were added as an appendage to the original 1963 console which was actually prepared for a completely different antiphonal envisioned by the organ committee. A rank of horizontal trumpets was installed in the early 1980s in honor of Spicer. The organ as it now stands is 5206 pipes.
In 2000, the organ was completely cleaned, the reeds reworked by David Broome of Connecticut, and the flues re-voiced by Fred Heffner. In 2001, Wayne Presbyterian Church purchased a 1982 4-manual Austin draw-knob console from First Presbyterian in Philadelphia. Then in 2003, a campaign chaired by Russ Brundage was undertaken by the music department to replace the original 1963 console with a new state of the art console. It was built inside the frame of the console purchased from First Presbyterian Church by Brant Duddy. The funds for this project were contributed solely by the participants of the music program. The congregation at large was not solicited and did not participate.
Brant Duddy was the Austin representative that sold WPC the organ in 1963. He has serviced and maintained the organ for its entire history.
The organ was originally dedicated in worship on Sunday, February 23, 1964.
Picture Gallery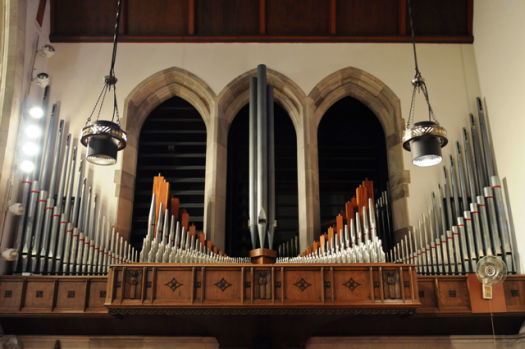 ---
More from Austin Pipe Organ